Benzac Ac Gel 10 Pc 50gm
Be the first one to write a review
SKU

408611
FREE DELIVERY
on orders over $90
Most NZ orders arrive in 2 - 3 business days.
Add to your cart and enter your post/zip code for shipping costs
Orders before 3pm usually get dispatched that day (weekdays)
Brief Overview
Treat acne with the Benzac AC and harness the acne fighting power of Benzyl Peroxide. This is a Pharmacy Only Medicine which can be purchased online for acne treatment....
More Details...
Benzac AC Gel 10 percent 50g with benzyl peroxide for acne.
Treat acne with the Benzac AC 10% and harness the acne fighting power of Benzyl Peroxide. Benzac AC 10% Gel treats acne has using beads which absorb oil and release glycerin to moisturise dry, irritated skin. It Contains 10% Benzoyl Peroxide which kills acne forming bacteria and unplugs clogged pores.
Are you suffering from chronic acne? Do you find yourself always having acne breakouts? Chronic acne breakout means that you are having a more frequent occasions that you have pimples than the time that you don't. And if your skin does not have rest from breakouts, the scarring can really be deep and hard to take out. Benzac AC Gel 10 percent is made with the active ingredient benzyl peroxide, which kills the acne forming bacteria.
Benefits include:
Treats acne by killing the acne forming bacteria
Unplugs clogged pores
Absorbs excess oil
Helps moisturize dry and irritated skin
Features include:
10% Benzoyl Peroxide
COntains the active ingredient benzyl peroxide
Made with Acrylates Copolymer beads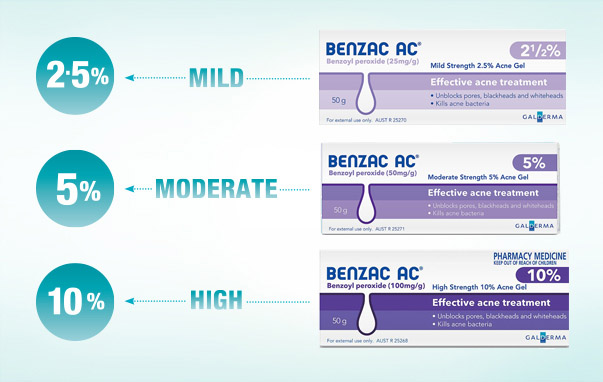 Ingredients:
Each gram of benzac AC gel contains Benzyl peroxide 100mg/g, Docusate sodium, Disodiumedetate, Poloamer 182, Carbomer 940, Propylene Glycol, Acrylates copolymer, Glycerol, Silicon dioxide, Citric acid,Sodium hydroxide.
Direction:
Wash hand before applying the gel and squeeze a small amount onto your finger and rub into affected areas.For a start leave it on the skin for 2 hours only then wash off with water.
Do not apply to eyes, Lips, Mouth or sensitive areas of the neck.
After 3 days if no discomfort occurs apply in the evening and leave on all night.
If after 3 days, there is no redness or peeling and your skin is not improving, apply twice daily morning and night.
Warnings and Precautions:
Avoid excessive exposure to sunlight. Discontinue use if excessive redness or peeling occurs.
Customer Declaration:
I agree to use strictly as directed and if symptoms persist or if I suffer any adverse effects, I will contact my Doctor or Pharmacist. This is a "Pharmacy Medicine". By ordering this product I acknowledge that I have read and understand the information regarding the product.
Delivery.
If this item has a green in stock message it is available for home delivery.
We offer
FREE DELIVERY
on all regular sized orders over $90 anywhere in the world.
We usually dispatch your order on the same day, if you order before 4pm on a business day.
Delivery within New Zealand:
Delivery is available New Zealand wide and
we find most orders arrive in 2 business days
. It may take longer if you live in a rural area.
Delivery on regular orders:
Delivery costs $7.20 for regular sizes orders which weigh under 2.5kgs, We find 90% of our orders are under this threshold. ...
More on that here...
Delivery on heavy items:
If you order weighs more than 2.5kgs (lots of liquids, circulation boosters etc.) We will pay the first 2.5kgs shipping for you, and you pay the difference. ...
More on that here...
Collection in store:
This is
not
something we offer at this time.

International Deliveries:
The cost of delivery will be calculate in the shopping cart if you press add to cart, based on your postal/zip code. Delivery usually takes 4 - 16 business days. We will email you with a more accurate delivery time when we dispatch your order.
Read our full shipping policy
here...
Returns
Read the returns policy here
---
Safe & Secure Online Shopping
Our website is protected by an SSL padlock so you get 100% Safe & Secure during website browsing and shopping.